I exist.
I'm also an admin. If I make a mistake, let me know!
Legend
"bad name" - files I've renamed and tagged with this phrase have names not suitable for the wiki at all, whether they be vulgar, nonsense or "default" names.
"non-indicative name" - files I've renamed and tagged with this phrase have names which, while suitable for the wiki overall, do not accurately describe the image.
"No clear reason for being here" - files deleted and tagged with this phrase are files I couldn't find a clear use for. If a user objects, they should explain to me what the file was for, before re-uploading it.
[sic] - written "as-is".
If 3 days have passed (in nearly all cases) since an image is uploaded and it isn't used, then I'll just probably delete it to reduce gallery clutter.
Also, I wrote a guide for tooltips, which you can read here.
To-do List
Be active lol
Images for the Kaleidoscope (

a few are still needed

).
Scroll through unused images, seeing which can be used and when.
(somehow) figure out how to tab the infoboxes. (For NN/SG and Yellow/Blue Tattletails)
Create pages:

The Kaleidoscope (Location, not update, that already has a page).
Add a "Locations" tab to the Wiki Navigation once enough pages are made (Decided instead to pre-empt and stop people recreating the Kaleidoscope's page until I have enough information and screenshots to fill it out)

Convert "Official Release Trailer" page into a page for the VHS, and move trailer itself to Easter Eggs.
Convert "Night-Night and Snowglobe" page into a Minor Characters page, and add the other minor characters.
Expand OST page and add Kaleidoscope soundtracks.

Further expansion to include other ambient tracks.

Combine developers into a single page.
Use references (however the crap those work)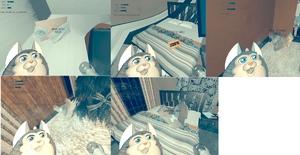 Community content is available under
CC-BY-SA
unless otherwise noted.